The Department of Commerce is going to launch two initiatives to promote purchases in the municipality during Christmas within the campaign "By Christmas, in San Lorenzo you have it": the Christmas raffle of 6,000 euros in shopping vouchers and the II Christmas window decoration contest.
DRAW FOR CHRISTMAS IN SAN LORENZO YOU HAVE IT
The second call for the raffle " By Christmas, in San Lorenzo YOU HAVE IT " is endowed with 6,000 euros. 340 prizes of 10, 20 and 50 euros will be distributed among the customers of the gurriatas stores who have previously registered (see Participating customer registration link below) and spend equal to or greater than 10 euros from December 13 to December 16. January 2022 in the establishments adhering to the initiative. The objective of this raffle is to support local businesses and, at the same time, sensitize residents about the importance of shopping in small local businesses to enjoy a lively and sustainable city. The prizes will be communicated at the time of purchase and may be exchanged at participating merchants until January 31, 2022.
Registration period: Google Play (from December 3), Apple Store (pending date)
Participate in the raffle as a merchant:
Download the APP for participating businesses:
Participate in the draw as a customer, here.
II SHOWCASE CONTEST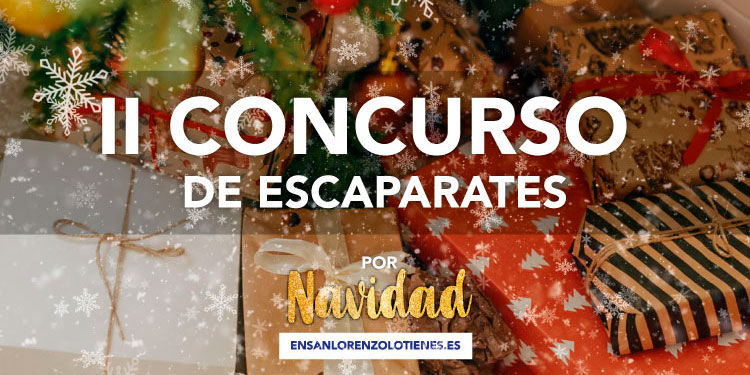 The II Shop Windows Contest "By Christmas, in San Lorenzo YOU HAVE IT" invites local businesses to decorate their windows with Christmas decorations and lights, with originality and according to the type of product they sell, from December 13 to 6 from January. The decision of the contest will be the responsibility of a popular jury, which will assess the composition of the showcase, the materials used, the extra lighting and the artistic creation with a first prize of 299 euros, a second of 200 euros and a third of 100 euros. All participants will receive an institutional gift. Participating shop windows will be photographed and shown in the municipal media.
Registration period: From December 3 to December 15, 2021
Voting: From December 17, 2021 to January 6, 2022
You can vote by clicking here: